昨天一早在word上抄录Hertz租车的广告,真可谓是酣畅淋漓。
首先发现了原来自己的外语水平其实也没有想象中的差,其次是觉得为有实力的公司写文案真是一件很爽快的事情。
把事实说出来,消费者更愿意接受。
这让我想起去年在一家生物技术公司做产品文案的日子,把大多数的心思都放再了怎样用华丽高贵的词语,写出一个学界还没有完全认可的事情。
所以我对这份工作其实是又爱又恨,爱在它磨了我很多的词汇量,初次体会到写几句吸引人的话原来是这么难,
恨在他们的产品不断的在打法律和伦理业界的擦边球,那段期间生物科技行业的负面新闻层出不穷,而我依旧"顶风作案"。
有时候写着写着,觉得很不爽,便发现这已经不是文笔有多厉害的问题,而是关乎到自己道德底线的问题了。
所以我更喜欢用实力来说话的产品,这是要为文案人省了多少的心呀。
据说这些广告是发表在1962年,安飞士和赫兹租车公司的广告在社会上闹得沸沸扬扬。
安飞士的广告我在大学的时候看过,却是到了今天才看到原来赫兹公司后来回击了这么精彩的一篇。
而这并不是说,安飞士的文案就不好,他们那一句
"we're not the big fish,you won't feel like a sardine when you come to our counter.We're not jammed with customer."
很是吸引人。而且他们的广告语:"我们是第二,所以我们会更加努力。"
谦虚得体,如果没有赫兹在后面这样的完胜,安飞士会一直很讨喜。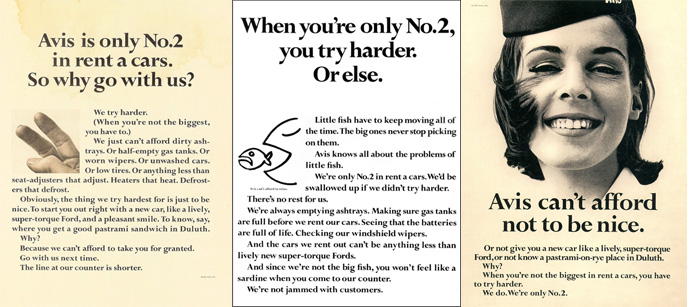 英文都很简单,我就不一句句翻译了。特别那张客服人员的笑脸,配上一句"安飞士不能不好"让人觉得看了很舒服。
安飞士文案原文:
When you're only no.2 ,you try harder. Or else
Little fish have to keep moving all of the time.the big ones never stop picking on them.
Avis knows all about the problem of little fish.
We're only no.2 in rent a cars.we'd be swallowed up if we didn't try harder.
There's no rest for us.
We're always emptying ashtrays.making sure gas tanks are full before we rent our cars.seeing that the batteries are full of life.checking our windshield wipers.
And the cars we rent out can't be anything less than lively new super-torque ford.
And since we're not the big fish,you won't feel like a sardine when you come to our counter.
We're not jammed with customer.
Avis is only no.2 in rent a cars.so why go with us?
We try harder.
(when you're not the biggest,you have to)
we just can;t afford dirty ashtrays. Or half-empty gar tanks.or worn wipers.or unwashed cars.or low tires.or anything less than seat-adjusters that adjust.heaters that heat.defrosters that defrost.
Obviously,the thing we try hardest for is just to be nice.to start you out right with a new car,like a lively,super-torque ford,and a pleasant smile.to know,say, where you get a good pastrami sandwich in duluth.
Why?
Because we can't afford to take you for granted.
Go with us next time.
The line at our counter is shorter.
Avis can't afford not to be nice.
Or not give you a new car like a lively,super-torque ford,or not know a pastrami-on-rye place in Why?
when you're not the biggest,you have to try harder.
We do.we're only no.2
于是,因为你是第二,所以第一就跑出来告诉你,为什么你只能是第二。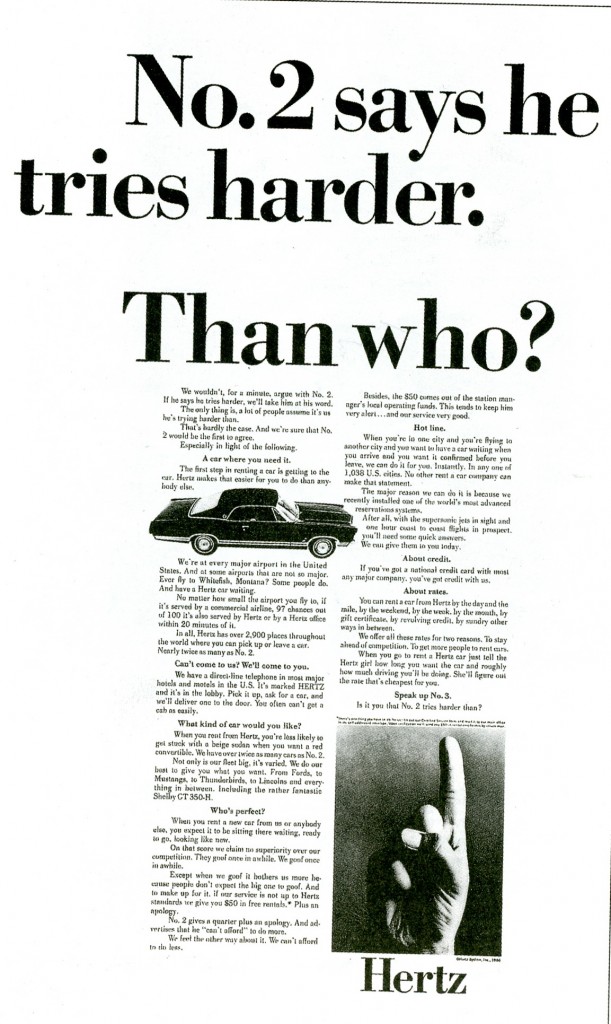 赫兹的这篇广告,是我非常喜欢的形式,一开始有点气急败坏的感觉,但是后面是非常有条理的说出了他们作为第一的所有资质。
最后幽默地来一句:No.3,Is it you that no.2 tries harder than?
他们的一句"Can't come to us?we'll come to you"无声地反击了安飞士说那句"We're not jammed with customer."的问题。
而在用图上,也完全"照搬"了安飞士那张"yeah"手势的图片。
"照搬"在这里是褒义词,因为如果他们实力在文案里没写清楚,这就叫抄袭。但是这次赫兹的文案完胜,这图就延用得非常聪明。
相比起我们的王老吉和加多宝,十罐凉茶有七罐就是他们的。你让我说什么好呢?
最好笑的的是有款抽油烟机也用了这个句式的广告文案,就创意来讲就别提有多傻b了。
早上搜了一下安飞士和赫兹的近期的广告,不知道是我关键词没找好还是怎样,没有太多精彩的内容,
确实是有看到安飞士有了一句新的广告语,叫什么"我们努力变成你的地盘"?
这真像中国移动动感地带的广告啊。
附Hertz文案原文:
No.2 says he tried harder.than who?
We wouldn't,for a minute,argue with no.2.if he says he tries harder,we'll take him at this word.
The only thing is a lot of people assume it's us he's trying harder than
That's hardly the case .and we're sure that no.2 would be the first to agree.
Especially in light of the following.
A car where you need it.
The first step in renting a car is getting to the ear.hertz ,makes that easies for you to do than anybody else.
We're at every major airport in the united states. And at some airports that are not so major.ever fly to whitefish,Montana? Some people do .and have a hertz car waiting.
No matter how small the airport you fly to,if it's served by a commercial airline,97 chances out of 100 it's also served by hertz or by a hertz office within 20 minutes of it .
In all. Hertz has over 2,900 places throughout the world where you can pick up or leave a car.Nearly twice as many as no.2
Can't come to us?we'll come to you.
We have a direct-line telephone in most major hotels and motels in the U.S.it's marked hertz and it's in the lobby.pick it up.ask for a car,and we'll deliver one to the door. You often can't get a cab as easily
What kind of car would you like?
When you rent from hertz,you're less likely to get stuck with a beige sedan when you want a red convertible .we have over twice as many as no.2
Not only is our fleet big,it's varied. We do our best to give you what you want,from fords,to mustangs,to thunderbirds,to Lincolns and everything in between.including the rather fantastic Shelby GT240-H
Who's perfect?
When you rent a new car from us or anybody else,you expect it to be sitting there waiting,ready to go,looking like new.
On that score we claim no superiority over our competition.they goof once in awhile.we goof once in awhile.
Except when we goof it bothers us more because people don't expect the big one to goof.and to make up for it.if our service is not up to hertz standards we give you 850 in free rentals,plus an apology.
No.2 gives a quarter plus an apology,and advertises that he "can't afford" to do more.
We feel the other way about it .we can't afford to do less.
Besides,the 850 comes out of the station manager's local operating funds.this tends to keep him very alert…and our service very good.
Hot line
When you're in one city and you're flying to another city and you want to have a car waiting when you arrive and you want it confirmed before you leave,we can do it for you,instantly,in any one of 1038U.S.cities.no other rent a car company can make that statement.
The major reason we can do it is because we recently installed one of the world's most advanced reservations systems.
After all.,with the supersonic jets in sight and one hour coast to coast flights in prospect,we can give them to you today.
About credit
If you've got a national credit card with most any major company.you've got credit with us.
About rates.
You can rent a ear from hertz by the day and the mile, by the weekend,by the week,by the month,be gift certificate,by revolving credit,by sundry other ways in between.
We offer all these rates for two reasons.to stay ahead of competition,.to get more people to rent ears.
When you go to rent a hertz car just tell the hertz girl how long you want the car and roughy how much driving you'll be doing,she'll figure out that rate that's cheapest for you.
Speak up No.3
Is it you that no.2 tries harder than?
Jim Durfee的创意之道1:
避开让我们爱不释手的东西——一语双关的标题——我就能简意直言。
每当我写下行云流水般的长句,它们字字珠玑、令人怦然心动(像本句)
我就知道我又面临倾倒自己产生废物的危险了。
实际上,根本不要"写"。想象一个你希望打动的人,
然后让此人坐在你对面。通过笔,对她说话。
每件产品都自有其价值,自有其可信区间。一旦夸大其辞,读者便会知道。
是的,他们必会知道。